take out the red spots cause that's blood.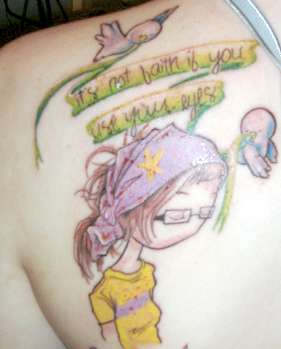 when it heals, i'm going to get 2 Cor. 5:7 under it, which is "For we walk by faith, not by sight".but i'm just getting the verse numbers, not the words.

I chose this lyric cause I listened to Miracle [by Paramore] over and over again after my grandpa died and while my grandma was recovering from open heart surgery. it really helped me alot during both of those times. and also because I'm a huge worrier and I'm trying to have more faith and less doubt and this is a reminder of that.

i love it! Hannah, my artist, made it so much more amazing than i could have imagined.